Been thinking a lot lately for some reason
about being
a "fan" versus a "fanatic".

Like all of you, I've made friends here through Jovi sites that I email or talk online with or even *yes!* talk with on the phone.

And sure, at first it starts out almost all Bon Jovi, but then it drifts into real life as we begin to trust each other more.

We share real names, real locations, real information.

And this got me to wondering … am I just getting lucky in the people that I've met or are we fans, not fanatics?

There are some Jovi songs I don't like, others I'm 'meh' about, and others that send me through the roof
with shivers of rock and roll joy.
Do you feel the same?

Of the friends you've made, have you been lucky
or was there at least one
(no names please)
that just sent the WRONG kind of shivers through you?
Sure would like to know.

* * * * *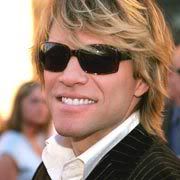 I just love "candid" shots of Jon. Not sure if this is exactly that, but those shots at least show him as "real".
And, honestly, the man is gorgeous.
I'm hoping to persuade her that we need a PUPPY WEEK.
Hell, we could probably do a puppy MONTH!

For those of us who lived THROUGH the 80's
we can remember all the fun we had.
For you out there who are STILL puppies?
Well, you can see once again what ya missed!
See? Being "older" ain't so bad …
Could Richie be any hotter than when he wears that Stetson?