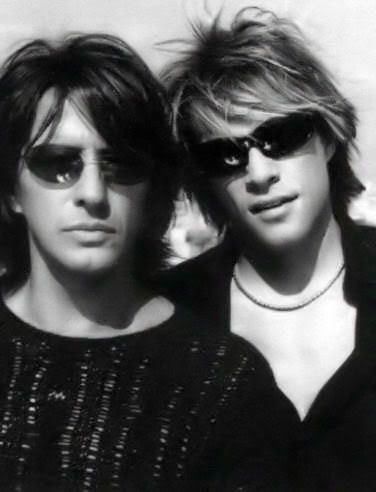 Don't ask me why but the other day I was randomly following link after link after link and somehow I got to a site that talked about Axl Rose saying Jon could "suck his dick".

Well, where was I when this happened?

Being the nosy bitch I am, I immediately started looking this up (gotta love Google).

Then I follow MORE links and come across something that just dropped my jaw.

Y'all know the song Let's Make It Baby?

Sorry, what a "duh" question.

Well, am I the only person who has not heard about the alternative lyrics?

This site has the following at the end of the song (edited for clarity):

So turn out the lights and baby go down slowly
Dont you tell me you want me
Dont you tell me you love me
Just tell me you...you...want me.
Tell me...tell me...tell me
Lets make it baby
lets make it baby
lets make it baby
lets make it baby
(I want to fuck you)
(suck my dick, suck my dick, I want you to suck my dick)
(I Want to fuck you)


*Gulp* Uhm…huh?

I have both versions – the "clean" (yeah, right) and the "dirty" talkbox version and neither one says that one line. Believe me, I woulda noticed.

So, has anybody else heard of this? Am I missing THIS?

Is this version out there in mp3 land?

And if you love me, will you send it to me?

How about if you just don't hate me?

Ladies…your mission, should you choose to accept, is to HELP ME OUT HERE with info on this version.

Does this exist other than words on a few web sites?

And in case you're thinking this was just some random find, here are some other sites where these lyrics are:

Here at Tabcrawler

and here at Sweet Lyrics

and another at Lyrics Mode


The Fiction Mistress thinks I'm just missing this in the talkbox version. If that's true, I'm immediately buying a bottle of wine and listening until I hear it. My only consolation is that Hector didn't seem to hear it either.

*whimper*

I really wanna hear this.